"Every locked door has a key."
Edition: Advance Copy
Published: September 12th, 2017 by G.P. Putnam's Sons Books for Young Readers
Genres: Science Fiction, Young Adult
Pages: 416
Goodreads Rating: 4.4/5 stars
My Rating: 5/5 stars
---
Sci-Fi book written by Marie Lu that is centered around a virtual reality and taken place in Tokyo? You had me at "written by Marie Lu".
In Warcross we follow a teenager named Emika Chen, a bounty hunter, and hacker who lives in New York City. Since her father passed Emika is struggling to pay the rent of her tiny apartment in the city, so she uses her hacking abilities to track down players who illegally bet on the game. Finally one day she decides to take a risk that could take care of all her financial problem—hack a live Warcross Opening Ceremony on the game's neurolink. While trying to hack the game she is accidentally glitched into the game for the whole world to see, including Hideo Tanaka, the founder of the virtual reality game.
Immediately after being glitched into the game Emika is forced from the game and an unknown number calls. Repeatedly ignoring her cell, she goes to bed believing it to be the police wanting to arrest her. The next morning she wakes up to eighty-four texts all asking Emika to call the number immediately and a bunch of reporters outside her apartment complex. After seeing that she was the world's top trending topic she looks up the number and finds out it is for Henka Games' headquarters in Manhattan.
Emika finally decides to call the number rather and is immediately greeted by a woman instead of an automated voice. The woman then transfers her call straight to Mr. Hideo Tanaka himself and he is immediately asking Emika if she is able to come to Tokyo, Japan because he has a job for her if she was willing to hear more. With that Emika finds herself packing what little of belongings she has and is flying across the world to Japan. The next morning at 10 o'clock she is in a meeting room with several people, but most importantly Hideo. During this time he explains to Emika that basically she is important to the game world of Warcross because she isn't the only one to breach the game's security. Her taking part in the game will help find the hacker.
---
I am usually quite turned off by books that are receiving so much hype because I always expect them to be a disappointment, but Warcross was by far one of the best books I have read in 2017. Granted we still have five more months in the year, which means many books will be released within that time frame, but I'm pretty sure it'll stay in my top three reads for 2017. This book deserves all the positive words it has been receiving from everyone in the book community.
Warcross is filled with so much detail, it makes it feel as if you're right there in the world with Emika Chen, and it makes it really easy to understand the advanced technology in this futuristic world (even if you're like me and you are far from tech savvy.) It also presents such an interesting plot with all the secrets and lies that are slowly revealed throughout the story.
Warcross also has a lot of diversity and some representation amongst the characters. Emika is a Chinese American, Hideo is Japanese, there is also a character that wears a hijab, another that's in a wheelchair, and mention of characters who are gay. There's just so much more diversity since the game is played by people from around the globe.
And while we're talking about the characters for a second I want to talk about how amazing, and a breath of fresh air, Emika's character was. She was a hard-headed and an extremely determined protagonist, also her character development was incredible. We got to see her go from a girl who trusted just about no one to someone who willingly opened up to her team and relied on people other than herself in the end.
While there are a few plot twists in the book, most of them I detected quite easily but even when I was proven correct I wasn't left. . . unsatisfied? I guess that's what you can call it. Marie Lu still made the scenes enjoyable and managed to keep me intrigued and wanting to continue reading even though I managed to foresee what would happen. I also managed to piece together who I thought could possibly be the hacker breaching the game's security during a certain chapter but I was still quite surprised (and at the same time I wasn't? I had mixed emotions throughout this book okay, it left me with a book hangover) when it was revealed to us at the end. BUT there is a major plot twist that I was not expecting and I will say it gave me so many emotions (mostly me hating Marie Lu for ripping my heart out and stomping on it.) Quite honestly no one will be safe from the "feels" it will bring upon everyone.
All in all, I truly cannot wait for the second book in the series and Warcross hasn't even been released yet. Even though I personally managed to predict a lot of what happened in the book, I was still left surprised and on my toes because of how she managed to perfectly execute the scenes with her writing. So @ Marie Lu please release both Warcross and the second book now, I'm dying out here, you really outdid yourself and I can't wait another year or so for the second book.
I highly recommend adding Warcross to your TBR lists and checking out this wonderful book when it's released on September 12th because you will not be disappointed in this read. Once again Marie Lu really outdid herself with this one.
---
P.s. I'm pretty sure this was Marie Lu after she unleashed Warcross ARCs into the world, knowing the pain and suffering she would cause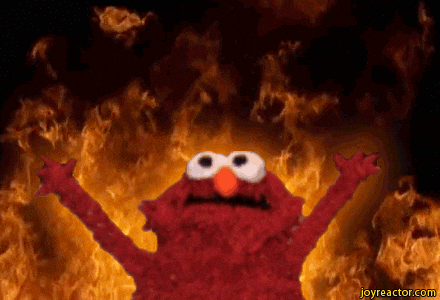 P.p.s. And this was me throughout the entire book that Marie Lu purposefully wrote to hurt my heart